Sun-1000g2-H 1000W Solar Panel Inverter Home Micro Inverter
---
Founded in 1996, Ningbo economic&technical development zone Hengda Electrical Co., Ltd., a provincial hi-tech enterprise, is specialized in the R&D, manufacture and sales service of lighting fittings and solar energy PV module connectors.
keyword:
off grid solar power system
Basic Info.
Circuit Topologies
Push-pull Type
Nature of Wave String
Sine Wave Inverter
Product Name
1000W Solar Panel Inverter Home Micro Inverter
Transport Package
1PCS/CTN
Specification
Packing: 54*31*15.5(cm)
Production Capacity
1000PCS/Day
Packaging & Delivery
Package size per unit product
56.00cm * 32.00cm * 17.00cm
Gross weight per unit product
7.500kg
Product Description

LCD Display 2000W With Limiter Sensor Solar Inverter On Grid PV Grid Tie Inversor 230V 50/60Hz Output

Model

Rated Power

(Max./Continuous)

DC Input Voltage

AC Output Voltage

AC Output Frequency

Max. Efficiency

Night




Power Consumption

SUN-1000G2-M

1000W /

9

00W

22V~65V

95V~265V

45Hz~64Hz

90%

1.0W

SUN-1000G2-H

1000W /

9

00W

45V~90V

95V~265V

45Hz~64Hz

92%

1.5W

SUN-2000G2-H

2000W /

18

00W

45V~90V

185V~265V

45Hz~64Hz

92%

1.5W

SUN-2000G2-T

2000W /

18

00W

60V~110V

185V~265V

45Hz~64Hz

92%

1.5W
Sunshine Grid Tie Power Inverter is the world's most technologically advanced inverter for use in utility-interactive applications. This manual details the safe installation and operation of the Sunshine Grid Tie Inverter.
This integrated system maximizes energy harvest, increases system reliability, and simplifies design, installation, and management.

The small type of solar grid tie power inverter can obtain solar energy from the solar panel and tie to the grid through its output cables with no extra equipment. The installation is very convenient and reliable.
We call the system combining with small solar grid tie inverter and solar panels as 'SGPV.' The system includes solar panels and small type grid tie inverter and installation kit. Solar panels can be mono silicon, polygon silicon, non-crystal film, or any other material that can convert solar energy into electric energy. The power of the grid tie inverter should be matched to the power of solar panels connected. So the power of SGPV is defined by its solar panels, it can be standardization according to the actual using.

The inverter can be connected to any outlets of the utility grid at the house. The small grid tie inverter monitors the voltage, frequency, and phase of the home utility grid, producing pure sine wave AC power that the frequency and phase are the same as the grids. The voltage is a bit higher than the grids, then according to the current-controlled PWM, to control the output power to the grid. The small grid tie inverter puts out power when the home grid is on. When the sun shines, the PV panel will produce DC voltage, and the grid tie inverter will change the DC voltage to AC voltage and puts out power to the home grid. When the total power of the electric apparatus that are using in the house is larger than the output power of the inverters, this power from the inverters will be consumed in the house. This will slow down the power meter; otherwise, the difference of the output power of the inverter between the total used power of the apparatus will go out from the house to the out grid.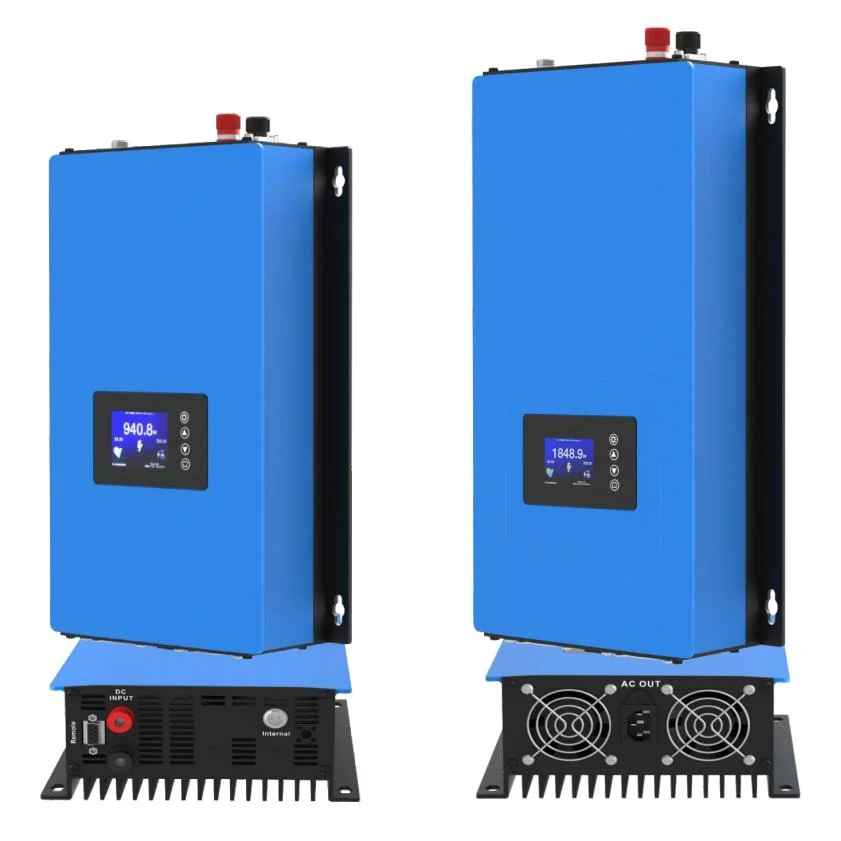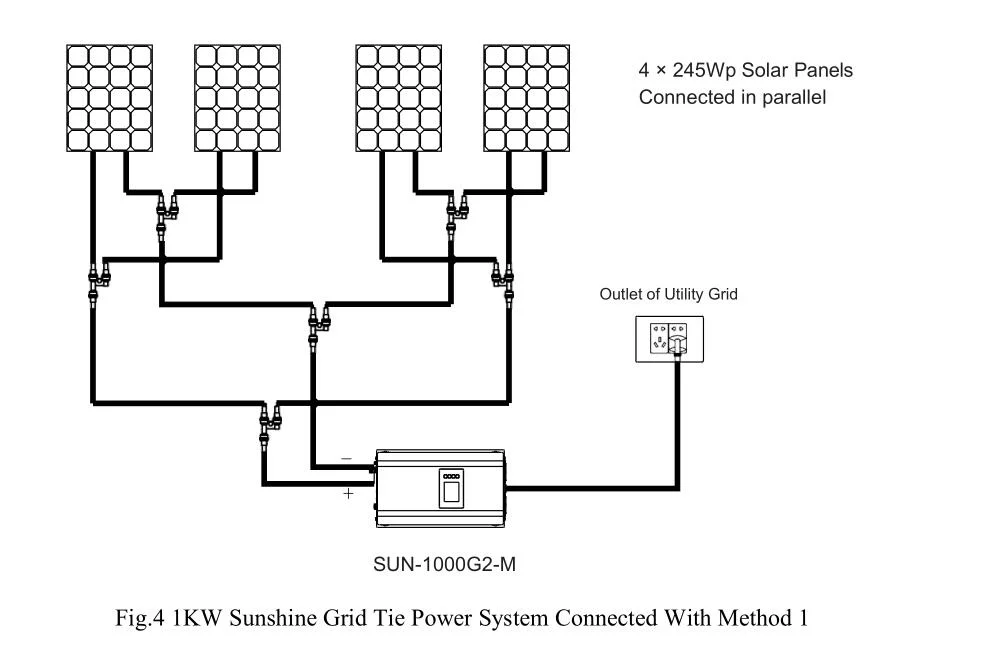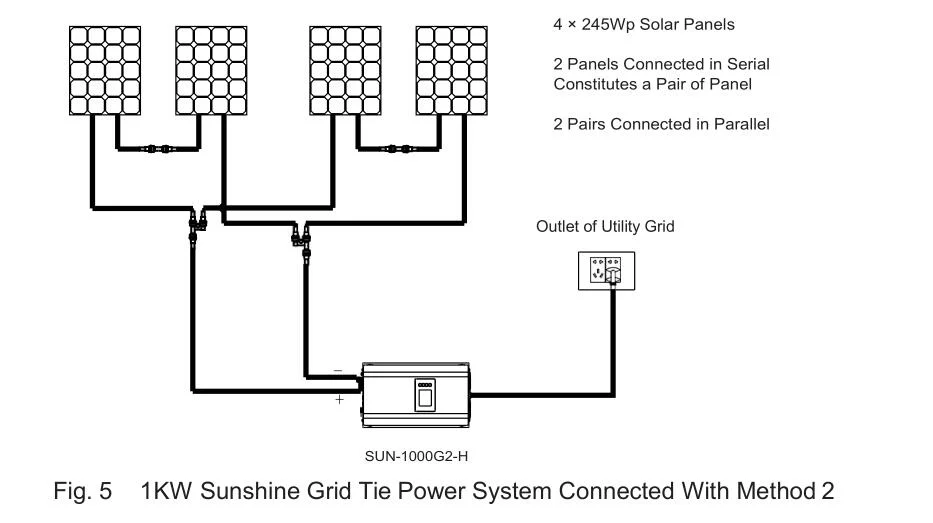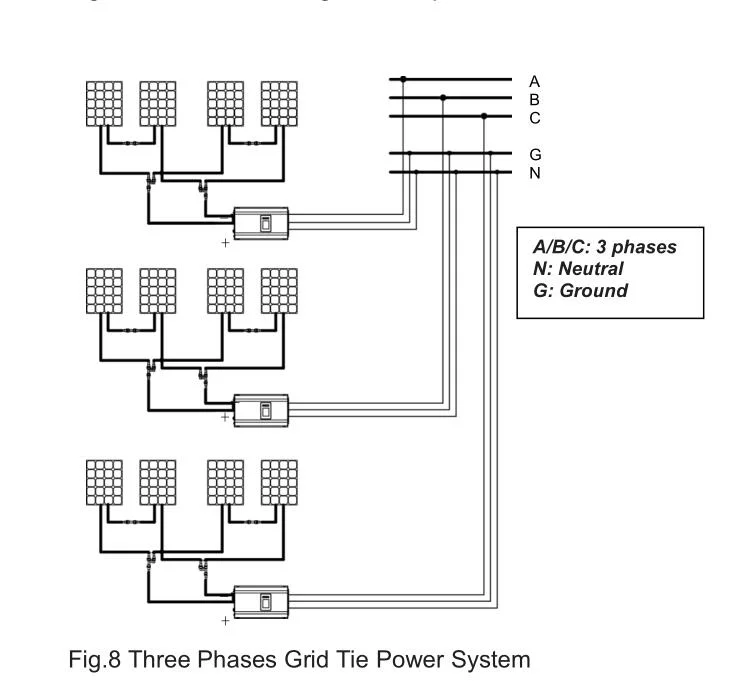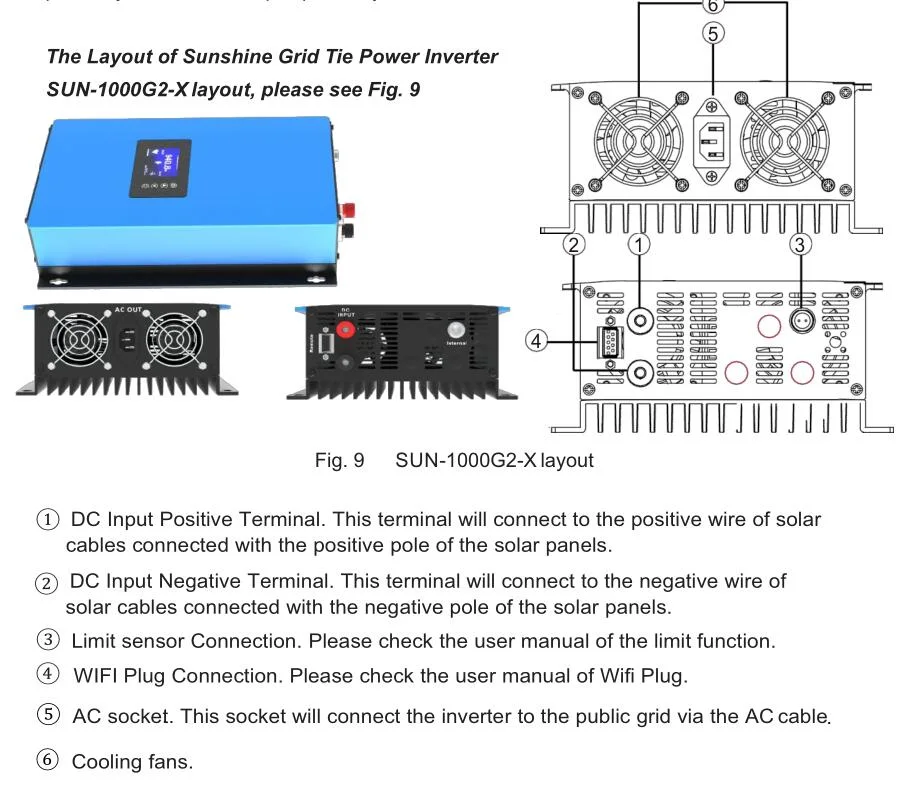 Fig 1.A Small Grid Tie Power System with Sunshine Grid Tie Inverter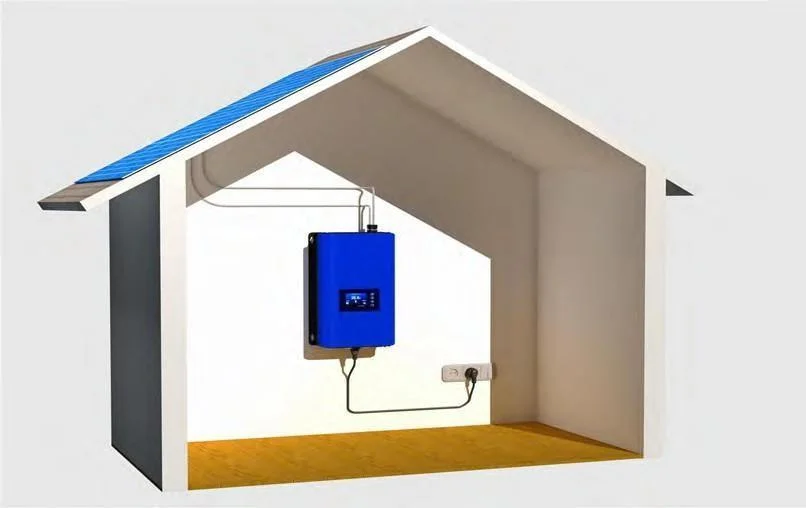 Multiple inverters can be connected in parallel to create a bigger system.
Plug and play installation.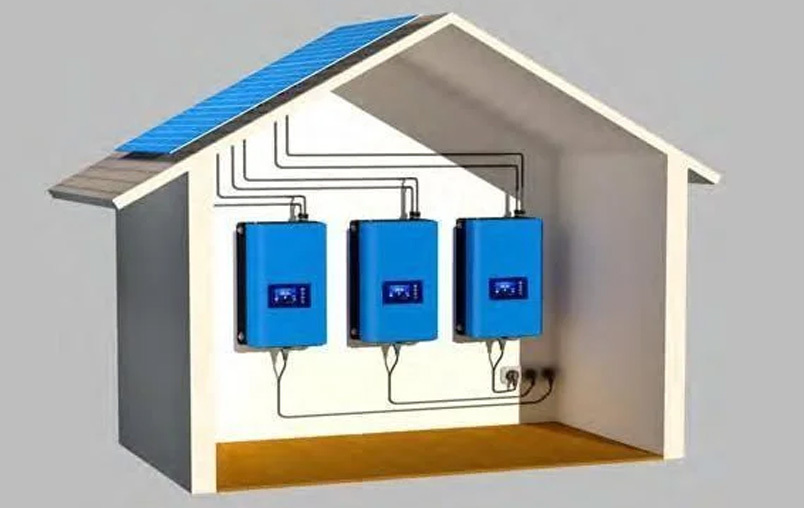 Advantage of The Sunshine Grid Tie Power System
There are many advantages of SGPV compare with the traditional grid tie power system.
Low cost and easy installation - SGPV can make full use of all types of buildings' surfaces that face the sun in the city as well as fast and easy installation of solar modules and grid tie inverter. It just needs very low maintenance costs.
Free combination - SGPV can be used as a separate grid tie system and set up as a large solar array with many of them. The quantity of SGPV in the array is just according to your desire.
Combination of SGPV does not interact - The traditional solar grid tie system is always connected with many panels. Those solar panels are connected in series, so the input voltage is very high, although, the traditional grid inverter has an MPPT feature (Maximum Power Point Tracking), but the maximum power point is according to the entire series in terms of solar panels array, if the performance of one piece of solar panels in the system, for some reason, such as leaves, bird droppings, dust, shadow, etc. and degrades, the performance of the entire solar power system will decrease.
SGPV system has no such disadvantage. If the performance of a piece of solar panels in the system degrades, this just effects one SGPV, will not affect other SGPV in the system.
Improving the efficiency of the entire solar power system - In a traditional grid tie system, many solar panels are connected in series, so the MPPT of the inverter is according to the total panels in series, not to every panel. Still, there is a difference between every panel, so not every panel is working at the maximum power, this will reduce the total power of these panels in series.
But SGPV has no such disadvantage. Because every inverter of SGPV has MPPT function, so every panel is working at the maximum power, this will increase the efficiency of the entire system.
Low power consumption - Most of the parts in the small grid tie inverter are digital ICs and low power MCU, so the power consumption of it is low. Though the quantity of grid tie inverters is increased, this will not increase the power consumption much of the entire system.

Top Hengda Electrical is a provincial hi-tech enterprise specialized in the R & D, manufacture and sales service of renewable energy such as inverters, solar panels, lithium batteries, solar connectors, junction boxes, lighting fittings etc. Our company covers an area of 11000 square meters, total investment of 10 million US dollars, with history of over 30 years.
Aiming at solar energy industry, based on the concept of "making the unique and the best products", TOP employed many talented personnel, began to research and develop solar products as early as 2004. We have 45pcs of different kinds of injection machines, 72pcs of different kinds of punching machines, more than 20pcs of ultrasonic welding machines, and many other advanced technology, assembling machines and testing equipment. Continuous developed, innovation goes on as it never ends. Our brand "Top" has won considerable domestic market share and a stable client base overseas. All products are certified with the certificates of C Q C, T U V, UL, V D E, CE, RoHS, S G S and so on. Our factory has obtained the certificates of I S O 9 0 0 1 Quality Management System and I S O1 4 0 0 1 Environmental Management System. With more than 30 years producing experience, our annual output has reached about 10,000,000pcs and we have exported more than 100 countries all over the world.
Welcome to inquire us! We will try our best to serve you satisfied.


Packing:Customized packing, Can be designed according to customer's requirements, manual can be multi-languages, add customer logo, etc.
Delivery:We can do EXW, FOB, CIF, CNF, DDA, DDP service for most of the countries all over the world.
Q1: How to install and use the solar inverter?
A1: We have the English teaching manual and videos; All the videos about every step of machine Disassembly, assembly, operation will be sent to our customers.
Q2: What if I don't have export experience ?
A2: We have reliable forwarder agent which can ship items to you by sea/air/Express to your doorstep.Any way, we will help you choose the most suitable shipping service.
Q3:Can you provide the free shipping to sea port ?
A3:Yes, we provide the free shipping to your convenient sea port.If you have agent in China, we can also ship it to them for free.
Q4: How is your technical support?
A4: We provide lifetime online support through Whatsapp/ Skype/ Wechat/ Email. Any problem after delivery, we will offer you video. call anytime,our engineer will also go to oversea help our customers if necessary.
Q5: Can you get the the solar inverter customized for us ?
A5: Of course, brand name, machine color, designed unique patterns available for customization.
Q6: How to become your agent?
A6:Contact us through Whatsapp/ Skype/ Wechat/ Email, we will give you the best price and look forward to your greetings